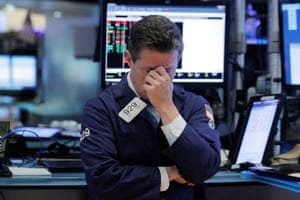 Good morning, and welcome to our rolling coverage of the world economy, the financial markets, the eurozone and business.
After two days of heavy losses, the financial markets are catching their breath and assessing the situation today.
Asian markets have rallied a little overnight, and traders are predicting a bounce-back in Europe this morning too.
But there's still a lot of anxiety in the City today, after investors watched the FTSE 100 lurch down by 2% into a correction yesterday.
That set up Wall Street for another big slump last night; the Dow lost another 545 points, taking its two-day losses to over 1,300 points, or 5%.
Anxiety over US interest rates, the trade war between America and China, and signs that the world economy is slowing are all being blamed.
Plus, Donald Trump is adding to the uncertainty by firing a series of pot-shots at the Federal Reserve, who he blames for fuelling the sell-off.
Here's yesterday's liveblog, covering all the drama from Europe, to the US and then Asia:
David Madden, market analyst at CMC Markets, says investors remain nervous….. while also wondering if this week's turmoil is actually a buying opportunity.



It was a choppy day yesterday as traders remained cautious about the prospect of higher interest rates in the US, mounting political pressure in Italy, and deteriorating global trading relationships. We saw huge swings in European and US stock markets as traders were battling with the age old emotions of fear and greed.

Traders love to snap up relatively cheap stocks, but sharp moves to the downside have left some traders worried this could be the beginning of a major decline. Stocks in Europe and the US finished the day firmly in the red.
On the economic front, we get a new healthcheck on Europe's factories today, plus a new measure of US confidence.
Plus it's the start of the bank reporting season, with Citi, JP Morgan, and Wells Fargo all reporting results. That could well move the markets….
The agenda
10am BST: Eurozone industrial production figures for August
3pm BST: University of Michigan survey of consumer sentiment