Pope Francis has said the church must be "firm and decisive in the pursuit of truth and justice" as the issue of sexual and institutional abuse continued to dominate his fraught two-day trip to Ireland.
Speaking at the Marian shrine in Knock in the west of Ireland, the pope begged for forgiveness for the "scandal and betrayal" felt by victims of sexual exploitation by Catholic clergy.
"None of us can fail to be moved by the stories of young people who suffered abuse, were robbed of their innocence and left scarred," Francis told tens of thousands at the shrine on Sunday morning.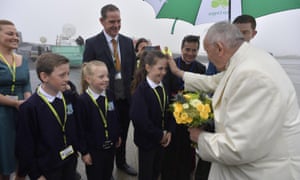 "This open wound challenges us to be firm and decisive in the pursuit of truth and justice. I beg forgiveness for these sins and for the scandal and betrayal felt by so many others in God's family," he said.
On arrival at Knock international airport, built privately to service the 1.5 million annual pilgrims to the shrine, Francis was greeted by hundreds of schoolchildren, whose excitement was undiminished by the mist and rain.
At the shrine, built on the site of a reported apparition of the Virgin Mary in 1879, he spent some moments in private reflection before leading Angelus prayers.
He then returned to Dublin, where he will celebrate mass in front of half a million people in Phoenix Park, before flying back to Rome on Sunday evening.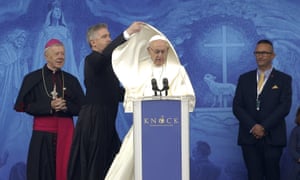 The visit, the first to Ireland by a pope since John Paul II in 1979, has been overshadowed by the issue of abuse by clerics and institutions of the church, and its cover-up by bishops and other senior figures.
Protests were planned to coincide with the papal mass on Sunday afternoon. In Dublin, survivors of sexual abuse and their supporters will gather at the Garden of Remembrance. In Tuam, in the west of Ireland, a vigil will be held at the site of a mass grave discovered at a mother-and-baby home, which contained the remains of almost 800 infants.
There may also be protests inside Phoenix Park, although the Garda has banned placards or banners.
On Saturday, Francis met eight survivors of abuse in a private meeting that lasted 90 minutes.
Paul Redmond, who was born in a Catholic mother and baby home, said the pope had described the cover-up of abuse as "caca", or excrement.
Survivors handed a letter to the pope, in English and in Spanish, telling him that 100,000 mothers were forcibly separated from their babies in Ireland, and were told it was a "mortal sin" to try to contact their children.
"As an act of healing, Pope Francis, we ask you to make it clear to the elderly and dying community of natural mothers and adoptees, that there was no sin in the reunion. It should be encouraged and facilitated by the Catholic church," their letter said.
Francis disappointed campaigners by failing to address their demands for concrete action against bishops and others who have facilitated or concealed abuse when he delivered a speech at Dublin Castle on Saturday.
He restated previous acknowledgement of the "grave scandal" of abuse. "The failure of ecclesiastical authorities – bishops, religious superiors, priests and others – adequately to address these repellent crimes has rightly given rise to outrage and remains a source of pain and shame for the Catholic community. I myself share those sentiments," he said.
Leo Varadkar, the Irish prime minister, called for a new relationship between church and state in which religion was no longer at the centre of society.
He said the time had come "for us to build a new, more mature relationship between church and state in Ireland – a new covenant for the 21st century".
It would be one "in which religion is no longer at the centre of our society, but in which it still has an important place", he said.
Meanwhile, a retired Vatican diplomat has accused Pope Francis of being aware of abuse allegations against a former archbishop of Washington from 2013 but failing to take action.
Archbishop Carlo Maria Viganò, 77, known for his conservative views, claimed he had an exchange with the pope in June 2013, three months after Francis was elected, in which he said there was a thick dossier on Theodore McCarrick. He said the pope did not respond, and McCarrick continued in his role as a public emissary for the church.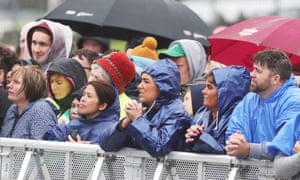 In an 11-page testament, Viganò also named other cardinals and archbishops who he said knew about the McCarrick claims. "Corruption has reached the very top of the church's hierarchy," he wrote.
He said: "Although [Francis] knew that [McCarrick] was a corrupt man, he covered for him to the bitter end."
Last month, Francis accepted McCarrick's resignation as a cardinal after fresh claims he sexually abused an 11-year-old altar boy and seminary students. McCarrick has maintained his innocence.
Viganò – a former ambassador to the United States – called for Francis to step down, saying: "In this extremely dramatic moment for the universal church, he must acknowledge his mistakes and, in keeping with the proclaimed principle of zero tolerance, Pope Francis must be the first to set a good example to cardinals and bishops who covered up McCarrick's abuses and resign along with all of them."
The publication of the testament – which also contains a lengthy attack on homosexuality in the Catholic church – is another sign of growing rancour and divisions within the Vatican and top levels of the church over Francis's papacy.